Monthly Archives: April 2015
Men wearing heels?!
That may not be something you see everyday, but the award winning 
Walk a Mile in Her Shoes®
international men's march sees hundreds of men walking in high heels to stop rape, sexual assault & gender violence.
The organization calls it a "playful opportunity for men to raise awareness in their community about the serious causes, effects and remediations to men's sexualized violence against women." The Walk A Mile In Her Shoes events open up a conversation that needs to happen in a fun way, asking men who participate to literally walk one mile in high heels to get people talking about what it's like to be a woman in today's society. If there's one thing that women know about heels, it's that they can hurt! We think it's great that men all across the country that are participating in this event will leave understanding the struggles and pain women go through everyday, even just by wearing a pair of heels with their outfit! All participants at these events, male or female, could definitely use a spray or two of Heel No Pain Style to help them walk that high-heeledmile! Talking about gender violence and sexual assault is so important, and these events are all about preventative education, changing perspectives, and helping men better understand and appreciate what it's like to be a woman in today's world!
Check out the Walk A Mile In Her Shoes website for more information on the event, and make sure to purchase a bottle of
Heel No Pain Style
to help spray the pain away!
#walkamileinhershoes #sprayawaythepain
Have you experienced foot pain while working out? Running or biking? Or even just walking?
You might be wearing the wrong sneakers.
Believe it or not, every workout comes with a specific type of sneaker that is designed to help support your feet and your body through any workout.
Wearing the right shoes can help stop pain during working out, and even if you don't feel any pain now, a good pair of sneakers can help prevent future damage, pain, and injury! 
Does this mean you have to have a million different pairs of shoes for every possible workout? Of course not! 
You don't have to break the bank to get rid of foot pain, but knowing and listening to your feet well can help you pick a couple of pairs of sneakers that are right for you and will result in less pain during exercise.
But what parts of your feet tell you what sneakers to buy? 
Fitness Magazine
 says to pay attention to the "
drop
," or the
"the height difference in millimeters between the shoe's heel and forefoot."
Fitness Magazine
says that a 0 to 4 mm drop "encourages a more natural midfoot strike," which is ideal for neutral runners. A 4 to 8 mm drop "helps you adjust to a natural stride while providing plump cushioning for high-arched runners or a little stability for those who overpronate," and an 8 to 12 mm drop "is best for runners who instinctively tend to land heel to toe and moderate to severe overpronators who need extra stability," as you are more likely to strike the ground with your heel. All of that running science may be a little overwhelming for you and navigating the multitudes of different kinds of sneakers can be like looking for a needle in a haystack. So to help, 
here is Heel No Pain's tell all guide to know what sneakers are best for every kind of workout. 
And remember, you can always
spray away the pain with Heel No Pain Active
, specifically designed to help stop 
athletic
 foot pain so you can keep moving and stay active!
Running:
Neutral runners would like the Asics Gel-Cumulus 16, with heel and forefoot GEL Cushioning Systems specifically designed for your comfort while running.($115; asicsamerica.com) 
For runners who like to train in a lightweight shoe that will carry them long distances, the Saucony Virrata 2 is right for you! ($90; saucony.com)
For those who like to run fast, check out the 
Under Armour Speedform Apollo
, which has a wider toe and a seamless heel that allows for comfort and speed ($100; 
underarmour.com
)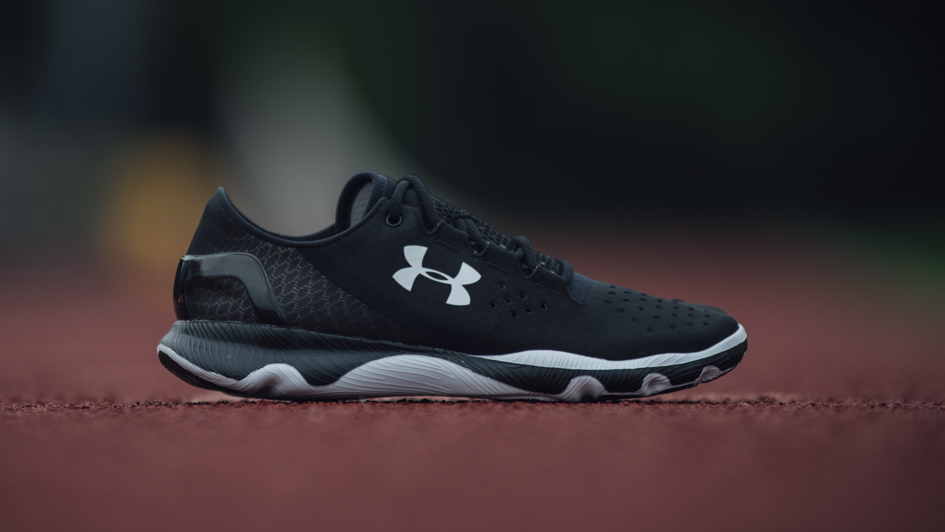 For ultimate stability and support, the 
Brooks Ravenna 5
 is a lightweight shoe that will provide cushion, stability, and protection for your arch, ankles, knees, etc., so you can run long distances in total comfort. ($75; 
brooksrunning.com
)
For Hitting The Trails:
Built to keep a good grip through anything from wet to uneven ground, the 
The North Face Ultra Trail 
is made for comfort in tackling the toughest terrain.($110; 
thenorthface.com
)
The 
Mizuno Wave Evo Ferus
gives you the ultimate comfort on trails with snug cushioning, as well as providing a lightweight and spacious but protective feel. ($56.98; 
SwimOutlet.com
)
For Cross Training:
You can get ready for any workout, from lifting to jumping to sprints, with the 
Reebok CrossFit Sprint TR
. This sneaker provides a snug and secure fit and solid support for your most rigorous training days. ($115,
reebok.com
)
If you're looking for the perfect fit,
Skechers Equalizer Oasis 
has a memory foam insole that gives you cushion through lifting, jumping, or floor work that feels custom to your foot. Plus they have a cool, fashionable design! ($75;
skechers.com
)
New Balance 711 Heathered 
has a responsive cushion that allows for any kind of workout, which is perfect if you're not exactly sure how you'll want to exercise from day to day. This is the perfect every-sneaker, that's good for anything from lifting and squats to jumping and sprinting. ($80;
newbalance.com
)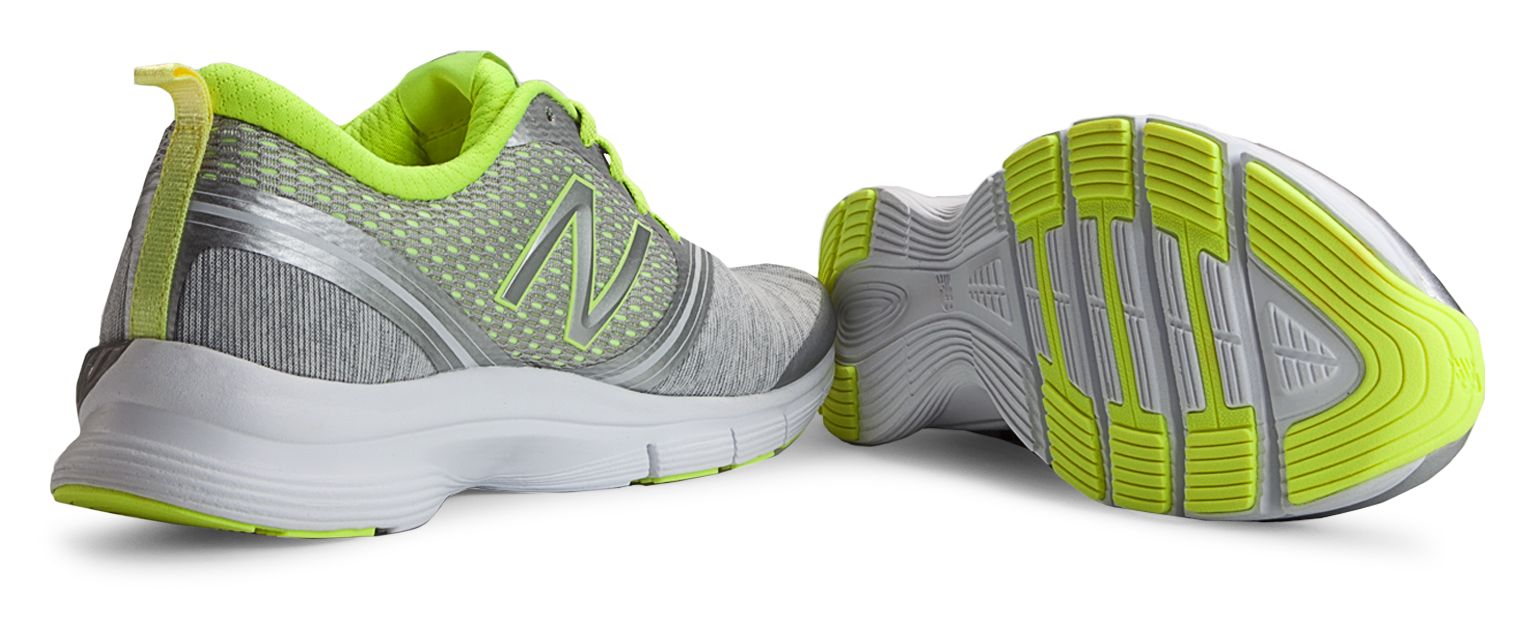 For Biking:
With light and customizable comfort, the 
Louis Garneau Women's Carbon LS 100 
has a unique cable closure system that allows for tightening your laces exactly to your comfort. The shoe also has multiple adjustable features, which helps the experienced cycler get a fit that's just right for them.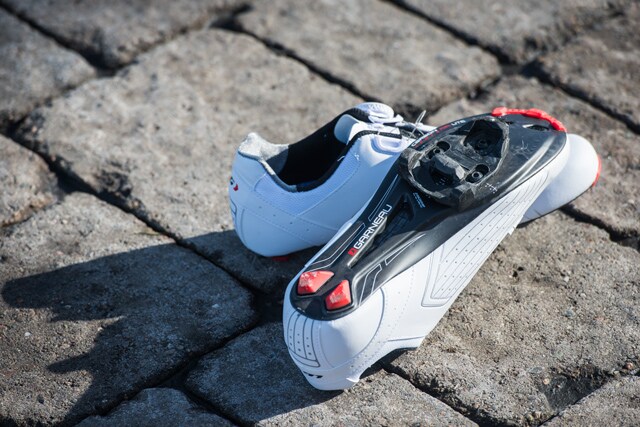 With a "Dynalast" outsole, the 
Shimano WR83 
is designed to keep your foot locked in the most efficient and optimized position for pedaling. Giving you the highest possible amount of power, the Shimano is the difference you can feel. ($200;
bike.shimano.com
)
For Walking:
The 
Salomon Cove 
is breathable and extremely comfortable, with mesh on the outside and a foam midsole. 
Fitness Magazine
testers say it feels like "walking on air."
Versatile, flexible, and up for anything, the
C9 by Champion Edge 
is great if you're unsure what your low-impact workout will bring. ($35;
target.com
)
There you have it! Those are just a few examples of the different kinds of sneakers that reviewers said were
best for different workouts
. For any workout, avoid foot pain by making sure that you're listening to your body and wearing the right shoe.
And when in doubt, Heel No Pain Active can help you keep moving by spraying the pain away
!
Take care of your feet with the right sneakers and Heel No Pain Active!
#stayactive #sprayawaythepain
Sources:
Fitness Magazine; Daily Burn